Painting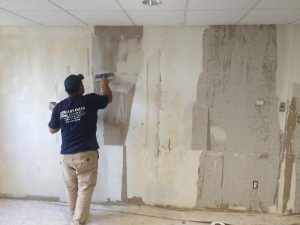 Advanced Building Services proudly serves the Great Lakes region, offering superior commercial and industrial painting services with unsurpassed customer satisfaction. At ABS, our commitment is to provide exceptional services from the ground up. From the foundation stone to the roof, every aspect of our work demonstrates our commitment to quality, integrity, honesty, and fairness within our client relationships. This includes the painting services we provide.
At Advanced Building Services, we specialize in painting services for a wide range of large and small-scale industrial and commercial applications. Our technicians have the equipment, training and experience necessary to handle the painting specifications of your next project. Some of our capabilities include:
Commercial Painting
Interior and Exterior Construction
Roof Coatings
Drywall
Siding
Metal, wood, stone and block structural applications
Industrial Painting
When it comes to our Industrial Painting capabilities, the sky really is the limit. From structural steel structures, to floor coatings or industrial equipment, we can manage the job efficiently, always keeping safety and client satisfaction in the forefront of our minds. Be sure to ask us about our full capabilities and whether or not ABS
Quality and Integrity Go Hand-in-Hand
Advanced Building Services continues to grow and diversify throughout the region because we have a reputation built on quality and integrity. We strive to treat every client as we would like to be treated ourselves. This means that we will offer exceptional services, completed by accomplished tradesmen, at fair and competitive prices every time. When you work with ABS, you can be confident knowing that your project will be professionally coordinated, safe, and efficient from beginning to end.
Requesting a quote is simple. Contact us today to learn more about the painting services offered at Advanced Building Services.