Roofing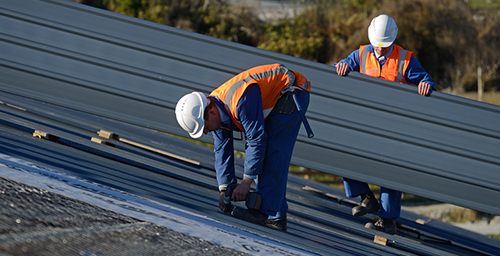 Advanced Building Service, the newest division of The Advanced Construction Group, has been serving the Midwest region and beyond since 2015. However, our roots as a commercial and industrial construction company date back to 1999, when our specialty was roofing. Today, it is our commercial and industrial roofing capabilities that have established our place as industry leaders throughout the Midwest. Lead by more than 50 years of combined industry experience gained from a diverse portfolio of projects, Advanced Building Services offers premium roofing solutions for a vast degree of commercial applications.
At Advanced Building Services, our builders, roofers and skilled tradesmen work with a variety of roofing materials to find the ideal roofing solution to meet your needs. Our roofs are expertly installed and guaranteed to provide the structural support, protection, and visual appeal that our clients expect and deserve.
Metal Roof Installations

Roof Repairs and Replacement

Energy Saving Roof Coatings

Weatherproofing

Services From the Ground Up
At Advanced Building Services, our pledge is to always offer quality services from the ground up. When it comes to building projects, the proper roofing solution is like icing on the cake. At the very top of your structure, the roof is what showcases the building while providing the aesthetic appeal, strength, and protection that you're depending on.
Through our client-centered approach to roofing and construction, we'll sit down with you from day one to determine the most appropriate roofing solution for your specific construction project. And when we're finished, you'll find peace-of-mind knowing that your new roof will stand strong for years to come.
Setting up a consultation to discuss roofing options is quick and easy. Simply call 419-891-2138 today and discover how a new roof from Advanced Building Services truly is the best choice you'll ever make for your upcoming building project.